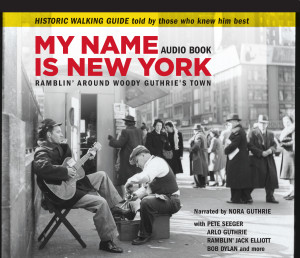 Rolling Stone premiers "My Name Is New York," an unreleased Woody Guthrie home recording, part of an enhanced audio book about his time in NYC. This three-CD set, out this September, features interviews with Pete Seeger, Ramblin' Jack Elliot and Woody's friends and family, plus never before heard home recordings and new songs from Woody's unpublished lyrics.
A monumental audio document, My Name Is New York was produced by Steve Rosenthal, Michael Kleff and Nora Guthrie, recorded and mixed at the Magic Shop by Brian Thorn and Kabir Hermon, and mastered at the Magic Shop by Jessica Thompson and Warren Russell-Smith.
Here's more on My Name Is New York from the Wall Street Journal and LA Times.