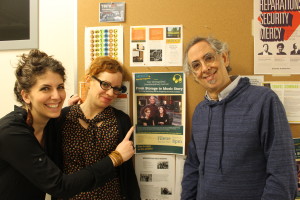 Steve Rosenthal, Jessica Thompson and Jocelyn Arem visited Skidmore College this March to give a presentation on Reviving, Restoring and Re-Imagining the Music Archive as part of Skidmore's MDOCS program. Revisiting their work on the Caffe Lena Archive, Steve wowed the audience with true tales of the treasure hunt – starting with just a handful of tapes and tracking down nearly 700 live recordings all made at Caffe Lena in Saratoga Springs, NY. Jessica talked about the process of digitizing the collection and restoring recordings for the box set and played some stellar "before" and "after" clips. Jocelyn, Skidmore's 2015 Carr Distinguished Interdisciplinary Lecturer, showed how dusty boxes of tapes and papers can be transformed and curated into award-winning box sets, books, websites and more.
Their presentation was followed by a concert featuring student and faculty performers reinterpreting songs from the Live at Caffe Lena box set, some traditional interpretations and some wild new configurations of historic folk songs. Jocelyn took to the stage with bass player Thabang Maphothoane and performed a gorgeous, minimalist, bluesy cover of Barbara Dane's "Mama Yancey's Advice / Love with a Feeling."
Steve and Jessica also stopped by professor Tony Holland's Music Technology class to share stories and advice from the field with audio engineering students.
And, of course, no visit to Saratoga Springs would be complete without a memorable pilgrimage to Caffe Lena.
Many thanks to Jordana Dym and Michelle Paquette for all their help and support in making our visit possible!